Paddling the Day Away on Flathead Lake
When guests stay with us, they do so with the idea that they will be spending some time on the lake. I mean, after all, Flathead Lake is the largest, natural freshwater lake west of the Mississippi. With more than 185 miles of shoreline and 200 square miles of water, you could spend a lifetime exploring all its' nooks and crannies.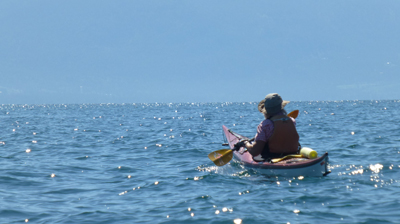 And there is no shortage of ways to play! You can rent all forms of water toys, but my favorites are paddleboards and kayaks.
We live next to Somers Bay and the protected cove is perfect for paddleboarding and kayaking especially if you are a little unsure of your balance. You can cruise along the shoreline and practice your technique while enjoying the views. Or paddle farther out and head four miles south to Lakeside. And did I mention you will more than likely spot an Osprey soaring above you and maybe witness it swoop down and scoop up a fish with its talons? There are also resident Bald Eagles to look for.
For more experienced paddlers, a two-mile cross water trip to Wild Horse Island can make for an exhilarating day on the lake with the added bonus of stopping on the Island and picnicking and hiking around to spot actual wild horses, or the heard of bighorn sheep. Wild horse Island is a state park, so there is no hunting. That means animals tend to get big! A few years ago, the largest ram curl (the horns of the bighorn sheep) ever found in the U.S. was found on the island. It weighed nearly 50 pounds! Can you imagine carrying 50 pounds on your head?
Don't feel safe taking to the waters on your own? There are guided excursions for all abilities available nearby. One of the guided trips I enjoy the most is the full moon paddle. Hosted by Sea Me Paddle, you leave shore at sunset and head towards the moon rise. There is nothing like watching it crest the Rocky Mountains and light up the night sky while paddling in its glowy water path.
If you want to try your hand at paddleboarding, just across the street from us is Paddle Board Outfitters.
Why stay on the shore when you can get out and explore all that Flathead Lake has to offer?